An in-depth review of the Real Estate Sales and Rentals Market in Southern Nevada.
Prepared by Mark Fleysher, B.142923
Disclosure: The real estate market is cyclical, real estate values go up and down, and it is impossible to accurately predict future real estate or other market conditions.
Explore 761 Dragon Ridge Dr and Today's 50 Most Expensive Homes for Sale in Las Vegas and Henderson Nevada!
Rental Market Analysis
As the summer sun sets on 2023, Las Vegas' rental landscape shows new and unique trends. Based on the increase in supply, without a reflective increase in demand, along with Fall in the air and Winter months ahead of us, it is my opinion that we will see a dramatic increase in the Average Days on Market and a decrease in the Average Leased Price, at least until next Spring.
Record-Breaking Rental Prices: The average monthly rent is $2,300 as of September 1, just below August's all-time record of $2,330. Year over year, there is a noticeable increase, up from $2,198 in September 2022 and $1,232 (!) in September 2013.
Record-Setting High Inventory: The Number of Homes for Rent and Months of Inventory are now at a noticeable high. As of 2023-09-17 there are 4,172 Active Listings on the MLS and 2108 leased within 30 days, resulting in a current 1.98 Months of Inventory; numbers like these have not been observed since 2014.
Metrics as of 09/19/2023:
Average Leased Price < 30 Days: $2,137
Average Days on Market: 41 Days
Number of Active Listings: 4,172
Number of Leased < 30 Days: 2,108
Months of Inventory: 1.98 months
Record-breaking number of apartments. Apartments are now open near you, all across the valley, releasing inventory in stages. From Avison Young's Multifamily Market Report, There are now over 200,000 apartment units! "Las Vegas multifamily now boasts the largest development pipeline of the decade"; "inventory continues to grow in Las Vegas, as multifamily development activity has experienced a tremendous rebound following the slowdown experienced during the pandemic."
Say Hello to SB381. Effective July 1, 2023 the Nevada Senate has amended NRS 118A.290 via Senate Bill Number 381; referencing the Legislative Counsel's Digest: "Existing law requires a landlord to maintain a dwelling unit in a habitable condition at all times during the tenancy of that dwelling unit. This bill prohibits a landlord from requiring a tenant to pay any fee or other charge for the performance of any repairs, maintenance tasks or other work for which the landlord has a duty to perform to maintain the habitability of the dwelling unit. This bill provides an exception from that prohibition for any fee or other charge for the performance of any repairs, maintenance tasks or other work necessary for a condition caused by a deliberate or negligent act or omission by the tenant, a member of the tenant's household or a person who has the consent of the tenant to be on the premises."
Say Goodbye to AB486. "AB486 was enacted in 2021 to protect tenants that applied for rental assistance to cover a rent default due to the pandemic. After the CARES Act went into effect, Nevada local governments received money from the federal government to help tenants who could not pay their rent because they lost income or became sick or experienced other loss due to COVID. The goal of AB486 was to make sure landlords were paid rent but also to protect tenants who could not pay … AB486 expired on June 5, 2023, despite the continued funding [availability] for rental assistance. … while tenants can still apply for rental assistance from their local government or human or social service agency, the court is no longer required to stay any eviction while that rental assistance application is pending." Visit Nevada Legal Services.
In summary, Strategically Price Your Rental Property! It is always my goal to attract the highest qualified long term Tenants, and those Tenants know their worth. With an influx of new properties and a robust list of active rentals, it is crucial to price competitively. If you aim for your property to be leased within two weeks from list date, consider pricing it an average price; be reasonable and factor in the year built, condition, and average comparable rentals, as overpricing could lead to prolonged vacancy periods, especially in the upcoming Fall and Winter renter's market!
The following analysis has been prepared by Mark Fleysher using LVR Data from 2008-08-01 to 2023-09-16.
Rental Inventory vs Price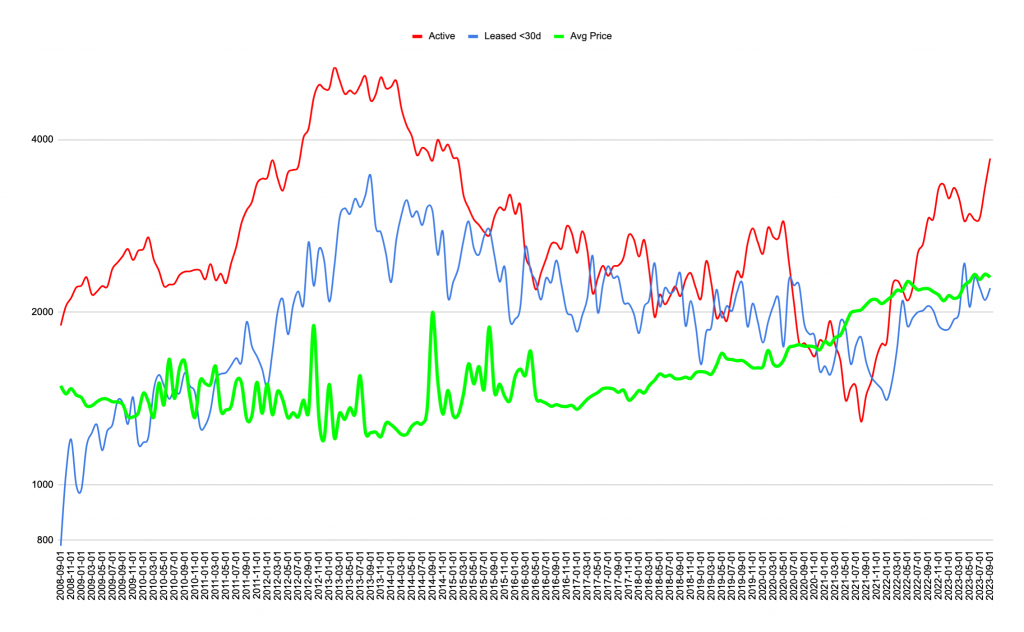 Rental Months of Inventory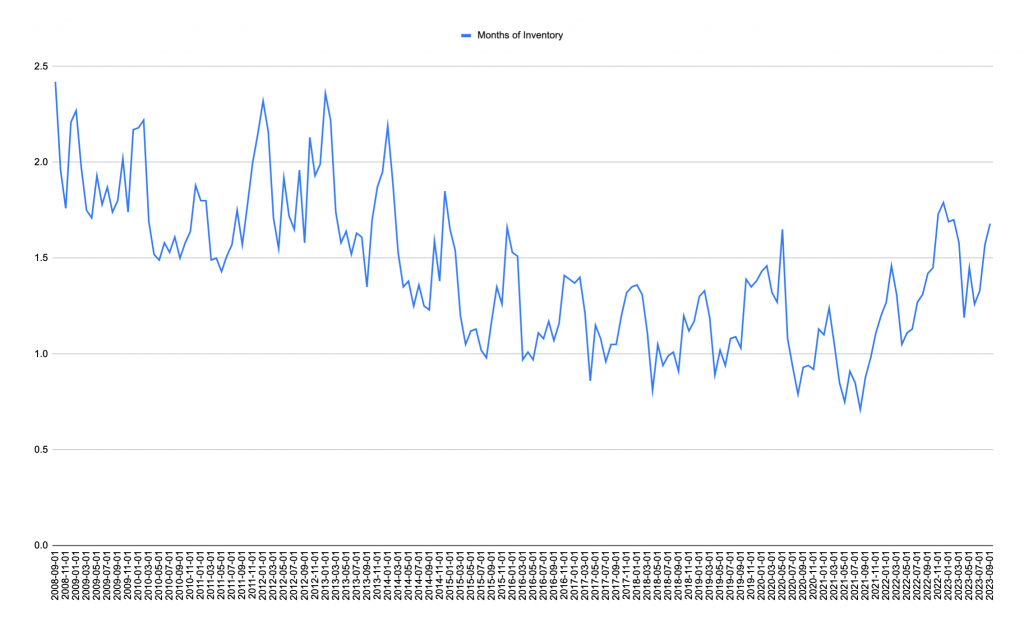 Number of Homes for Rent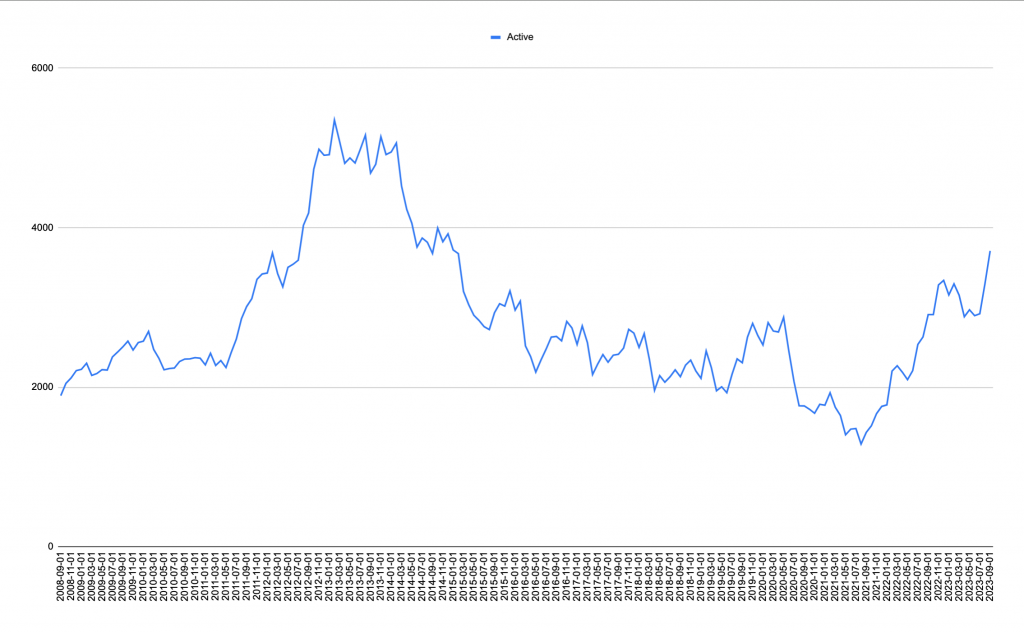 Rental Days on Market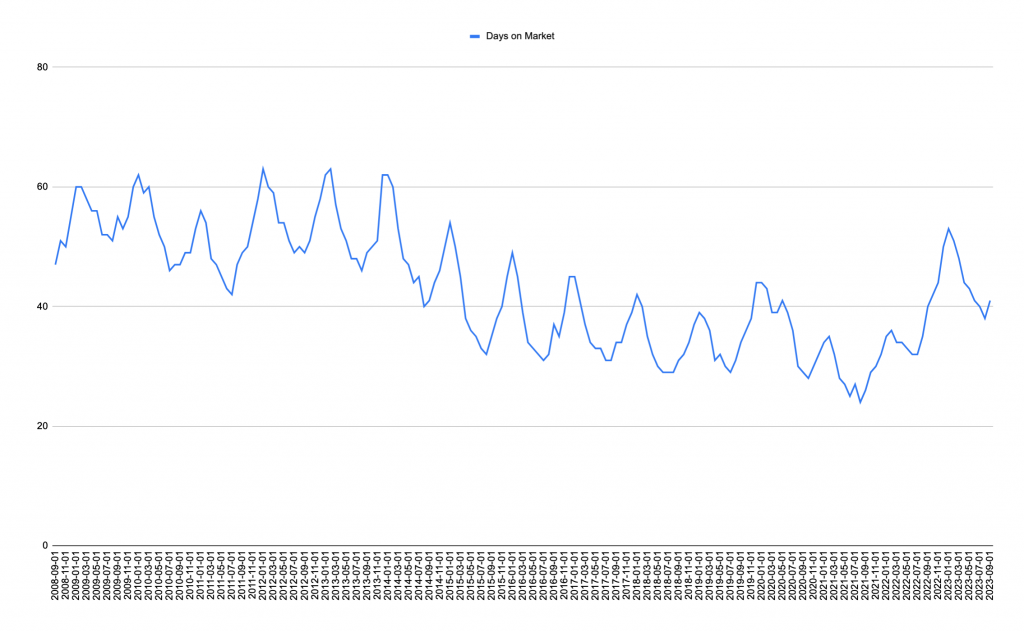 Sales Market Analysis
As Las Vegas transitions into the cooler months of autumn, the city's vibrant real estate market shows no signs of slowing down; Las Vegas' real estate scene remains vibrant and leans heavily in favor of sellers. Key insights include:
Average Sales Price: Currently at $509,928, approaching its all-time high of $521,287 from June 2022.
Closed Sales: A competitive scene with 2,884 homes sold.
Days on Market: Homes are getting snapped up quickly, averaging just 31 days on market.
Supply Dynamics: A scanty 2.4-month supply of homes signifies a seller's market. With 6,342 homes up for grabs, 3,926 being new listings, this number is relatively low.
Pending Sales: The number of pending sales stands at 2,974, suggesting that a substantial portion of the available homes is already spoken for, reiterating the fact that properties are moving quickly.
Increase in Foreclosures. According to the ATTOM U.S. Foreclosure Market Report, in August 2023, Las Vegas, NV had a significant foreclosure rate, ranking among the top metropolitan areas with one foreclosure filing for every 1,796 housing units. However, the prevailing strength of the Las Vegas real estate market suggests it might not have a marked influence on local market dynamics.
In summary, Las Vegas' real estate market at summer's end shows high demand with limited supply. Prospective buyers should act swiftly, while sellers might find this an opportune moment to list.
The following data is from LVR® InfoSparks © 2023 ShowingTime, see live charts. Each data point is one month of activity. Data is from Entire MLS September 17, 2023.
Average Sales Price
Closed Sales

Average Days on Market

Monthly Supply of Homes for Sale

Number of Homes for Sale

New Listings

The following analysis is from the Las Vegas REALTORS® August 2023 Monthly Housing Market Update.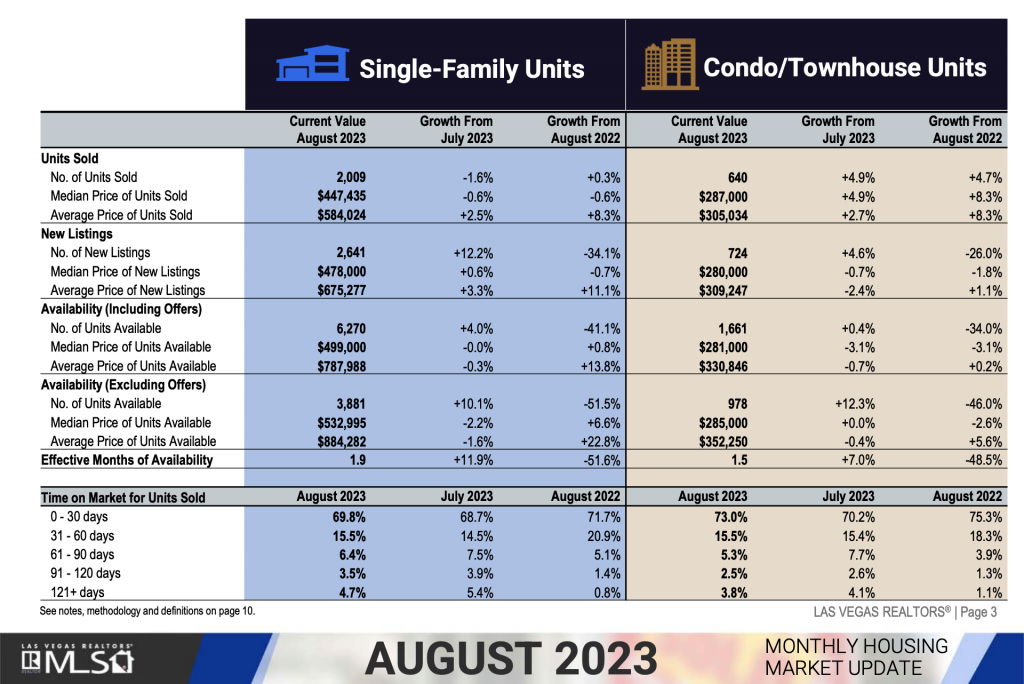 External Factors.
Las Vegas, a city synonymous with entertainment and luxury, has much more to offer than just world-class casinos and high-end resorts. As one of the fastest-growing cities in the United States, Las Vegas is a vibrant urban center with a unique character and charm; an attractive destination for tourists, residents, and businesses alike.
Read about more Local and External factors in our Spring 2023 Las Vegas Real Estate Market Update.
Connect with us: