Prepared by Mark Fleysher, B.142923
Low Inventory, Built-Up Demand, and External Forces.
Disclosure: The real estate market is cyclical, real estate values go up and down, and it is impossible to accurately predict future real estate or other market conditions.
The Las Vegas real estate market is heating up, right now, as fast as the weather!
The 2022-2023 winter season closed with the lowest Average Sales Price since October 2021:
Average Sales Price, Live Chart:
Average Sales Price vs Active Listings, 5 Years: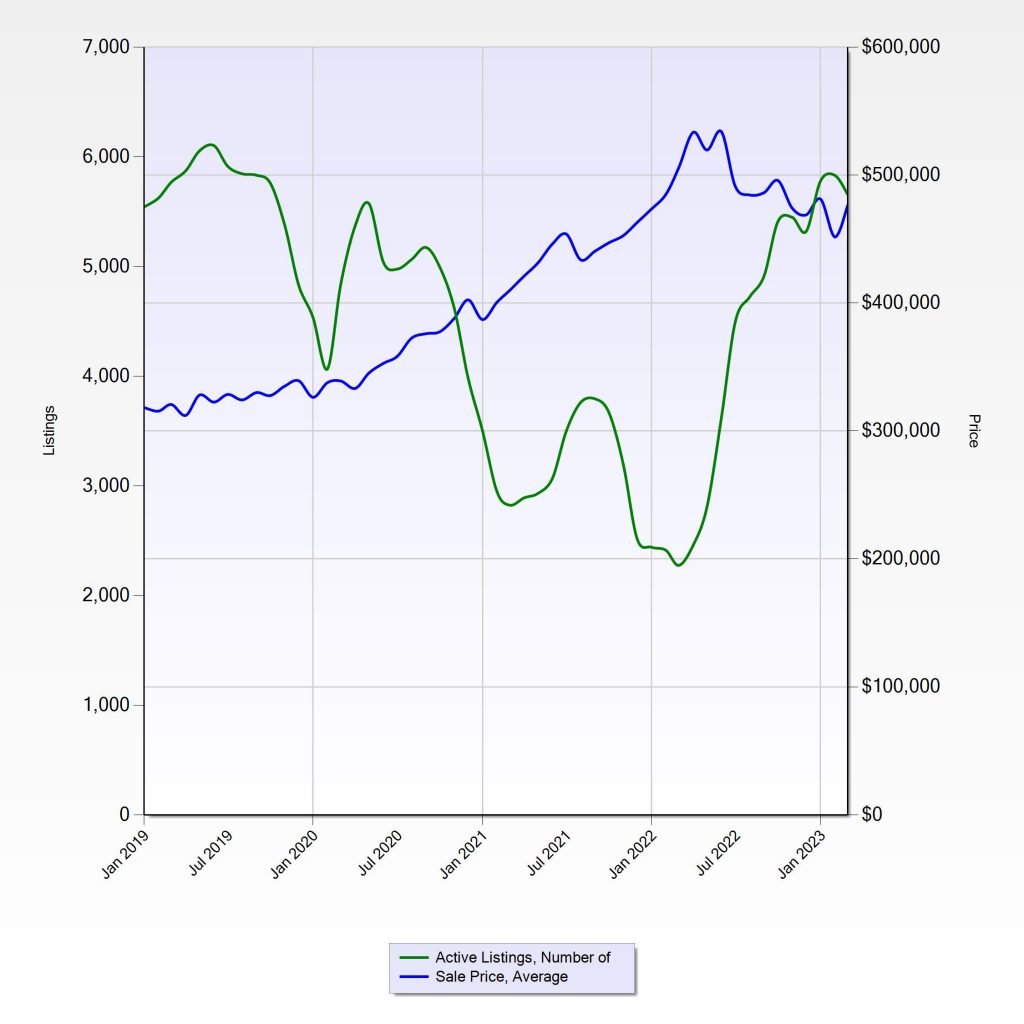 The Number and Months Supply of Homes for Sale look steady and healthy:
On the opposite spectrum, the number of Pending Sales and Showings Per Listing have increased with a notable increase in Closed Sales with conventional, FHA, and VA financing, versus the recent trend of 70% closings being composed of cash purchases.
The average days on market increased to a healthy plateau averaging 60 days on market, coming up from an dramatic record breaking average of 15 days on market in May 2022.
The number of Closed Sales and Dollar Volume of Closed Sales are at a dramatic low:
~ Will 2023 bring historic sales volume?! ~
Local Factors.
Las Vegas, a city synonymous with entertainment and luxury, has much more to offer than just world-class casinos and high-end resorts. As one of the fastest-growing cities in the United States, Las Vegas is a vibrant urban center with a unique character and charm; an attractive destination for tourists, residents, and businesses alike.
Las Vegas' diverse and thriving economy extends beyond the glitzy glamorous Las Vegas Strip. The city boasts a diverse economic landscape that includes industries such as hospitality, conventions, retail, healthcare, and technology. This economic diversity fosters job growth and attracts a talented workforce, contributing to the overall value of the city.
One of the most appealing aspects of Las Vegas is its relatively affordable cost of living compared to other major cities in the United States. Housing, transportation, and utility costs are generally more affordable, making it an attractive option for people looking to relocate or invest in real estate. This affordability also contributes to the city's growing population, which in turn drives up demand for goods and services.
With a business-friendly approach, no state income tax, low property taxes, and favorable tax environment for retirees (who may find the absence of state income tax on their pensions and Social Security benefits appealing), Nevada, especially Las Vegas, is well known for attracting businesses and entrepreneurs, further fueling economic growth and job creation.
Las Vegas' warm and dry climate offers abundant sunshine and outdoor recreation throughout the year, making it a popular destination for those who enjoy outdoor activities. Las Vegas experiences fewer natural disasters compared to many other major cities, as it is less prone to events such as hurricanes, tornadoes, and major earthquakes. The city is surrounded by beautiful natural landscapes, such as Red Rock Canyon, Lake Mead, the Spring Mountains, and Mount Charleston, which offer a range of outdoor recreational opportunities, including hiking, biking, rock climbing, skiing, and water sports. These natural amenities enhance the city's overall value and appeal to a wide range of residents and tourists.
Las Vegas has a thriving cultural and arts scene that adds depth to the city's overall appeal. The Smith Center for the Performing Arts, the Neon Museum, the Las Vegas Arts District, and the up and coming MSG Sphere at The Venetian are just a few examples of the city's dedication to fostering a vibrant cultural community. The diverse array of museums, galleries, and performance venues offer residents and visitors lively artistic escapes.
The presence of world-class higher education and research institutions in Las Vegas contributes to the city's intellectual capital and innovation potential. Institutions like the University of Nevada, Las Vegas (UNLV) and the Nevada System of Higher Education (NSHE) attract researchers, educators, and students, further enhancing the city's value.
Contrary to the common assumption Las Vegas, the city's proximity to Lake Mead actually ensures a sustainable water supply for the foreseeable future. The possibility of Lake Mead reaching "dead pool" levels poses a significant threat to downstream regions such as Los Angeles, Phoenix, San Diego, Tucson, and Mexico, while leaving upstream regions like Denver, Salt Lake City, and Albuquerque unaffected. Strangely enough, Las Vegas stands to benefit from this scenario, as the halted downstream release would result in significant water conservation. According to Southern Nevada Water Authority (SNWA), SNWA hydrologists anticipate that Las Vegas will continue to draw water from Lake Mead through its newest deep water intake pipe (built in 2017) for the foreseeable future. SNWA's newly imposed stricter water restrictions and long-term resource management strategies ensure continued water conservation efforts.
Las Vegas is much more than just a playground for tourists. The city's diverse economy, affordable cost of living, favorable tax environment, warm climate, vibrant cultural scene, and world-class education and research institutions all contribute to its overall value. These local factors not only make Las Vegas an appealing destination for tourists but also a great place to live, work, and invest in for both individuals and businesses.
External Factors.
High inflation is often regarded as a primary factor for real estate appreciation. Real Estate is widely considered an effective hedge against inflation; as the general price level in the economy increases, so too does the value of real estate because as the purchasing power of money decreases due to inflation, the value of tangible assets like real estate typically increases, thus offering a level of protection for investors.
High inflation drives up the cost of construction materials, labor, and land, in turn, making existing properties more valuable, as they become relatively affordable compared to new construction projects. Inflation can lead to a decrease in the supply of available properties, as the cost of living increases, fewer people may be able to afford new homes, leading to a reduction in new construction projects. This diminished supply, coupled with a potentially stable or growing demand for housing, can push up the value of existing real estate.
Over the past year, interest rates rapidly increased in an attempt to control the recent high inflation. Higher interest rates make borrowing more expensive, which can reduce the number of people able to afford new mortgages or other real estate loans, minimizing the number of people making moves; paired with the rapidly increasing population, this may be contributing to a shortage in the housing market, further driving up the value of existing properties.
Zillow Chief Economist Skylar Olsen recently released memo in reaction to the collapse of the 40-year-old Silicon Valley Bank, mortgage rates could ease and push property prices downward in tech-heavy metros including San Francisco and Seattle. On the contrary, Treasury Secretary Janet Yellen says bank depositors can feel confident that their money is safe.
The recent International Criminal Court (ICC) issued arrest warrant for Putin for alleged war crimes in Ukraine could present positive or adverse changes affecting the entire world. With constant geopolitical tensions and conflicts, it is not impossible for another world war to occur; however, the devastating consequences of past world wars have led to the development of various mechanisms to prevent and mitigate conflicts, including international treaties and organizations such as the United Nations. Ultimately, it is crucial for countries to continue working towards maintaining peace and resolving conflicts through peaceful means. The resettlement process for refugees in the United States is managed by the Department of State's Bureau of Population, Refugees, and Migration, and though Las Vegas is not a designated location, to my knowledge, Las Vegas finds itself diverse and a home for many refugees through collaborative programs with various non-governmental organizations that help refugees integrate into their new communities.
While high inflation has been a major contributor to our recent real estate appreciation, it is important to consider that just one unpredicted catastrophic event may have fast and severe consequences on our paradigms.
Share and Discuss.
Considering that everyone's situation is unique, and that change is the only constant, I believe that it is always a good time to buy and sell real estate and business'!
When you are ready to buy or sell, Hire Us! In the mean time, we are social, let us know your thoughts and questions:
Best Regards,
Mark Fleysher, MBA
Las Vegas Real Estate Broker | Property Manager | Business Broker